Career Opportunities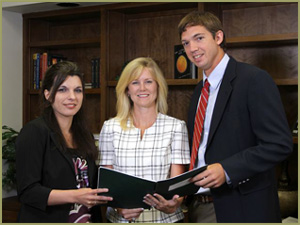 The team of Roloff, Hnatek & Co., L.L.P. believes in providing dependable service to the Victoria, Texas area with the individual needs of our clients placed first. If you share these ideals and wish to join us, apply to the available job listings below.
We will provide you the opportunity for future career growth, in a positive working environment.

Send your resume to Russell Hodon, PO Box 2486, Victoria, TX 77901, or email to rhodon@rhcllp.com
---
Current Job Listings
Senior Staff Accountant (3 + years experience)
We are seeking a CPA or candidate with at least 3 years of all-around experience in tax return preparation, auditing, and financial statement preparation. Tax preparation at all levels, including individual, corporate, partnership and fiduciary is preferred. Applicant should be able to prioritize tasks and work on multiple assignments.
Prior experience with UltraTax and Creative Solutions Accounting software is a plus, but not a requirement.
We offer excellent compensation and benefits, and opportunity for personal and career growth.
Competitive compensation
Bonus compensation for business development
Health insurance
Health Insurance Savings Plan (HSA)
Retirement plan
Continuing professional education (CPE)
Paid memberships to qualified organizations
Vacation and holidays
Flexible work schedules
Business casual dress code
Staff Accountant (0 to 3 years experience)
We are looking for a bright and motivated degreed accountant with 0 to 3 years of experience interested in a career in public accounting. The candidate's duties will include preparing tax returns and financial statements, researching tax issues, assisting on audit engagements, and working on special projects. Candidate should possess sharp analytical skills and strong communication skills including the ability to effectively present information and respond to clients' and supervisors' needs.
Proficiency in QuickBooks, MS Word, and Excel is a plus.
We offer excellent compensation and benefits, and opportunity for personal and career growth.
Competitive compensation
Bonus compensation for business development
Health insurance
Health Insurance Savings Plan (HSA)
Retirement plan
Continuing professional education (CPE)
Paid memberships to qualified organizations
Vacation and holidays
Flexible work schedules
Business casual dress code